BENEFITS OF SOUND SUPPRESSION »
REDUCES THE SOUND PRESSURE LEVEL OF MOST CALIBRES BELOW THE HEARING DAMAGE THRESHOLD
• Significantly reduces the shooters risk of temporary or permanent hearing damage
• Allows for better communications between team or squad members
REDUCES THE ENVIRONMENTAL NOISE
• Less disturbance to areas surrounding ranges
• Allows training facilities or shooting ranges to comply better with noise limits
SIGNIFICANTLY REDUCES THE VISIBLE MUZZLE FLASH AND DUST SIGNATURE
• If hunting in dusk conditions, allows a hunter to follow up a shot easier
• Masks the location of the shooter, especially important for military or law enforcement users
REDUCES THE RECOIL OF A WEAPON
• The weapon is easier to shoot with a lighter recoil, especially for young or women shooters
• The reduced recoil can enable faster follow up shots
A CORRECTLY MANUFACTURED AND MOUNTED SUPPRESSOR WILL NOT NEGATIVELY AFFECT ACCURACY
• Usually a more common result is improved accuracy, even an experienced shooter might shoot better with less recoil and sound, the suppressor also affects the barrel vibration which can be one reason for improved  accuracy
GENERAL INFORMATION ON FIREARM
SOUND SUPPRESSION MEASUREMENT
Fast-attach mounting systems »
BoreLock – A 4-position adjustable mount
The BoreLock mounting (BL) provides an easy to operate and secure attachment to many of the common weapon models available. BoreLock mounting suppressors are available from 5.56 mm NATO up to .338 LM caliber.

BORELOCK HIPER/HiPer-S AND BIRD CAGE FLASH
HIDERS
The Hiper flash hider is an extremely efficient flash hider. The tapered alignment surface before the attachment thread effectively blocks fouling from entering the mounting surfaces and allows for ease of attachment and removal. HiPer flash hiders are available to a variety of weapon types, from .223 Rem up to .30 calibre. For those seeking a more traditional flash hider solution, we also have a BoreLock bird cage flash hider available in the same calibres.
BORELOCK .30/.338 AND .223/5.56 CAL
MUZZLE BRAKES
The two-part design of the BoreLock muzzle brakes provides for secure, simple, and quick installation. No washers or shims required, thus allowing for precise alignment.
BORELOCK MOUNTING COLLAR
The primary purpose of the BoreLock mounting collar is to enable the user to continue using a flash hider or a muzzle brake that is already on the weapon. To be compatible with the BoreLock mounting collar and suppressors, the muzzle device needs to be under 22 mm in diameter and have a maximum length of 63 mm. NOTICE! With DUAL-S-BL, SL5i, SL6i and SL7i the maximal length of the combination is 52 mm.
Quick Mount 2 for standard NATO A1/A2 flash hiders
The QM2 fast-attach mounting system is our newest generation of fast-attach mounts. QM2 is designed for standard NATO A1/A2 flash hiders. Thanks to its new innovative mechanism, the QM2 enables the suppressor to be attached and detached faster than before, in just a few seconds.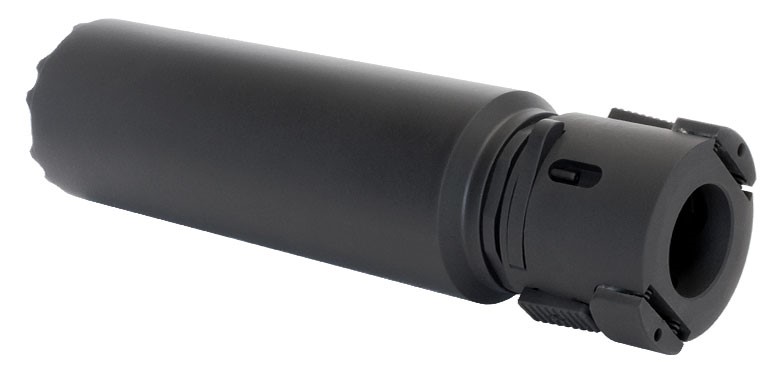 CALIBRE COMPATIBILITY »
Choose calibre to see the recommended products.
Recommendation
Can be used, but the bullet channel is oversized compared to the calibre, possibly affecting suppressor performance. The suppressor may also be too short when compared to the power of the calibre.
Safe to use, but the difference between the suppressor bullet channel and calibre is quite significant and clearly affects the suppressor performance.
Do not use.
See all calibers and sound suppressor compatibilities
Barrel THREADs »
If the firearm does not have a muzzle thread, we suggest the following options that cover most rifles;
Light-barrelled firearms .30 and smaller calibres:
M14x1 Sako / no spigot
Light-barrelled firearms 9.3, .338 Win Mag and other similar calibres:
M15x1 Sako / no spigot
Heavy-barrelled and shooting range type firearms in all calibres:
M18x1 Sako / no spigot
Ase Utra also offers a wide range of standard threads to cover threaded firearms and the differences in gun manufacturer thread options.
BARREL THREAD MEASUREMENTS
PRODUCT CODES »
Ase Utra sound suppressor product codes